Mariana Abarca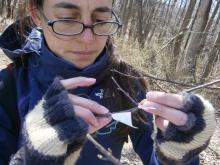 Role:
Research Assistant Professor
Current Affiliation:
Georgetown University
Interests:
Ecology, phenology, plant-insect interactions, climate change and natural history (I like studying how caterpillars eat and get eaten).
Publications
2018
Abarca, M., E. Larsen, J.T. Lill, M. Weiss, E. Lind, L. Ries. 2018. Inclusion of host quality data improves predictions of herbivore phenology. Entomologia Experimentalis et Applicata 166 (8), 648-660
Abarca, M., Lill, J. T., & Frank-Bolton, P. (2018). Latitudinal variation in responses of a forest herbivore and its egg parasitoids to experimental warming. Oecologia, 186(3), 869-881.