Naresh Neupane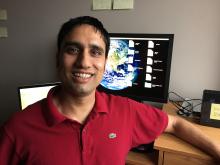 Role:
Research Assistant Professor
Current Affiliation:
Georgetown University
Interests:
My interests lie in exploring the impacts of global warming upon the physical and biological components of the earth system. Currently, I am working on understanding the population size and distribution of butterfly in the future under various global warming scenarios. My past researches were mainly focused on understanding the response of the West African monsoon system to the global warming.